At Eastlea Community School, we believe that the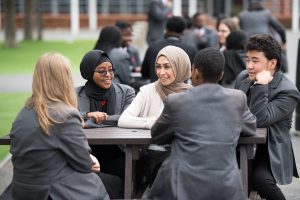 Year 9 Options process is very important. It is an opportunity for your child to have increased control of the choices they make about their education. The options chosen in Year 9 will impact your child's time at school for the next two years. These choices will also influence which options are available after Year 11 in terms of further study and career pathways.
It is vitally important to choose subjects for the correct reasons. Spend some time with your child thinking about which subjects they enjoy doing, and what keeps them interested and motivated. Above all, your child will need to think about which subjects will offer them the career options they want to pursue.
The information posted on this page is aimed at supporting you and your child through this process.
Good reasons for choosing an option
You are good at the subject
You think you will enjoy the course
It fits your career ideas and plans
It goes well with your other choices
It helps to give you plenty of choice post 16
You think you might want to continue studying it post 16
Your research shows that it will interest you and motivate you to learn
Bad reasons for choosing an option
Your friends have chosen it
You think it will be easy
Someone else thinks it is a good idea
You like the teacher you have now
You did not have time to research your options properly
Information for Parents/Carers
Below are a  set of short videos that we feel will help students and their parents/carers start discussing which options are best for their future aspirations.
| | | |
| --- | --- | --- |
| Choosing your GCSE options | Technology Architect | Global HR Director |
| | | |
| Reliability Engineer | Choreographer | Patent Attorney |
| | | |
| Senior Associate – Corporate Law |  Senior Publicist, EMI | Flood and Coastal Risk Management Advisor |
| | | |
| A Naval Architect | Dentist | Optometrist |
| | | |
Important Dates and Letters Home
Year

 

9

 

Options

 Evening
Thursday 25th February 2021 at 3.30pm. 
This will take place via Google Meet.
Click here for the relevant  link.
Please Note: students need to login to their school Google account to access the meeting.
Letter to Parents and Carers regarding Year 9 Options 
Letter to Parents and Carers regarding Year 9 Options
Year 9 Options Booklet
Eastlea School Year 9 Options Booklet
Year 9

Options

Form
Click on the link below  to access the form.
Once you have picked your four subjects you need to submit the google form so that your choices have been recorded.
Forms need to be submitted by Friday 5th March 2021
Please Note: students will need to login to their school google account to access this form.
Subject Presentations 
Click on the links below to view presentations for each option: